The Complete List of What You Can and Cannot Compost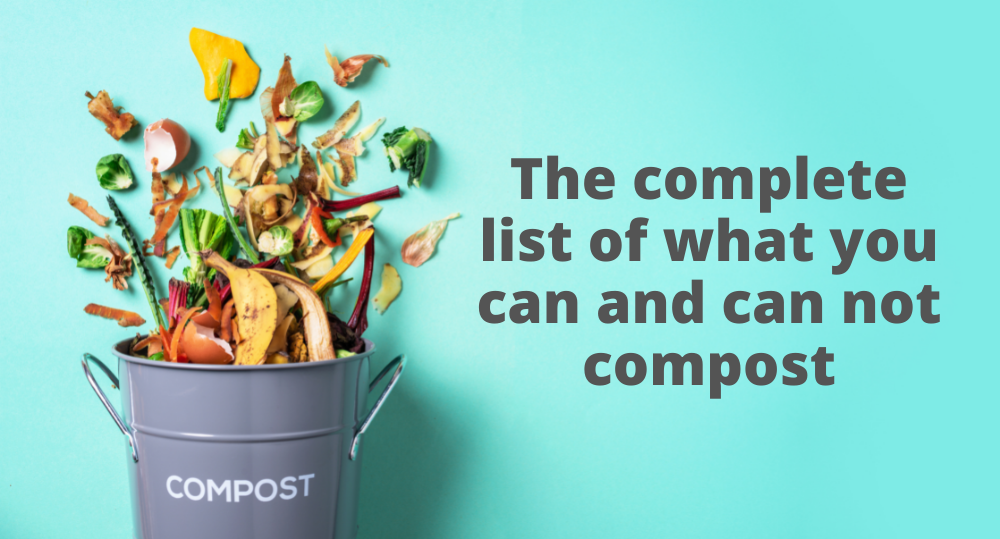 Wondering what you can and cannot compost? Here is everything you need to know.
Composting is a great option, both for your home and the environment. Keeping your yard and kitchen waste out of the landfill and reusing it for the benefit of your flower beds, gardens, and lawn can be very rewarding.
Not sure what can go in your compost pile and what cannot? We are here to help you choose the right ingredients to make your home composting experience a successful one.
Can You Compost Newspaper?
Newspaper is compostable and a good source of carbon. It is best to shred or chop the newspaper, this will help it to break down more quickly.
Are Eggshells Compostable?
Eggshells are compostable but can take longer than some other items to break down. Crushing them down will help to speed up the process.
Is Sawdust Compostable?
Sawdust is compostable and a good source of carbon. Sawdust can be a great "brown" to use in your composter. Avoid using sawdust from pressure-treated lumber, due to the chemicals in the wood.
Are Meat and Bones Compostable?
beyondGREEN's electric composters can compost meat scraps but not bones. If you have an outdoor compost pile, we suggest avoiding meat and bones as they will break down slowly and could attack unwanted pests.
Can You Compost Grease and Fats?
Grease and fat leftover from the kitchen should not be composted. They can coat other materials and prevent them from breaking down or clog the inside of an electric composter.
Can You Compost Dairy Products?
beyondGREEN's electric composters can compost dairy products. If you have an outdoor compost pile, dairy products will break down in it, but they are not recommended to add. They are prone to creating strong odors and can attract pests.
Can You Compost Paper Towels?
It depends. If there are no chemicals on the paper towels, they are fine to be composted and will be a good source of carbon. Shredding the paper towels is advised.
Is Cardboard Compostable?
Some cardboard is compostable and is an excellent source of carbon. Corrugated cardboard, cereal boxes, drink boxes, and shoeboxes can all be composted if there are not heavy dyes used on the boxes. Wax-coated cardboard will not break down well. It is best to shred or rip up any cardboard you plan to compost and remove any stickers or tape.
Can You Compost Fruit and Vegetable Peels?
Fruit and vegetable peels such as potatoes, bananas, and apples are compostable and provide nitrogen for your compost pile. These are great organic materials to add to your pile. Chopping or shredding them will help to speed up the decomposition process.
Can you compost orange peels? Try to avoid citrus fruits such as oranges, lemons, and limes. These can be acidic and can kill off microorganisms that help decomposition. You should also avoid tomatoes and pickled vegetables for the same reasons.
Is Parchment Paper Compostable?
Parchment paper is generally safe to compost and will provide carbon for your compost pile. If your parchment paper is glossy, waxy, soiled with grease it should not be thrown into the compost bin.
Are Tea Bags Compostable?
Can you compost tea bags? The general answer is no. Most teabags contain at least some element of plastic in the bag itself. However, the tea leaves inside the tea bags can be emptied and used for compost.
Can You Compost Cornstalks or Cobs?
Cornstalks and husks can be composted and will break down like any other plant material and provide carbon to your compost. Due to the size of cornstalks and cobs, these will work best with an outdoor compost pile or bin.
When it comes to corn cobs you have a few options. You can chop up the corn cobs and let them decompose with the rest of the pile or throw them in whole. If thrown in whole, they can provide air pockets in the pile and speed up the decomposition of the pile. If you go this route, the cobs will likely need to be pulled out of the finished compost, as they will take longer to break down. You can reuse them in the next pile.
beyondGREEN's Kitchen Composter
At beyondGREEN we have an automatic electric Kitchen Waste Composter that has the capacity to compost everyday items such as food scraps, coffee grounds, wood shavings, grains, yard waste, and more. This composter is capable of composting at 10 times the rate as the average backyard composter. With our composter, you will have fresh compost for use in your garden every two weeks.
Our composter is also energy efficient. The construction allows for maximum heat insulation and controls internal temperatures while also maximizing the energy used to heat the food waste for fast composting. These factors reduce the overall energy used for the composting process. It is made from recyclable products that are 100% recyclable themselves.