California's Senate Bill 1046 & Ban on Plastic Produce Bags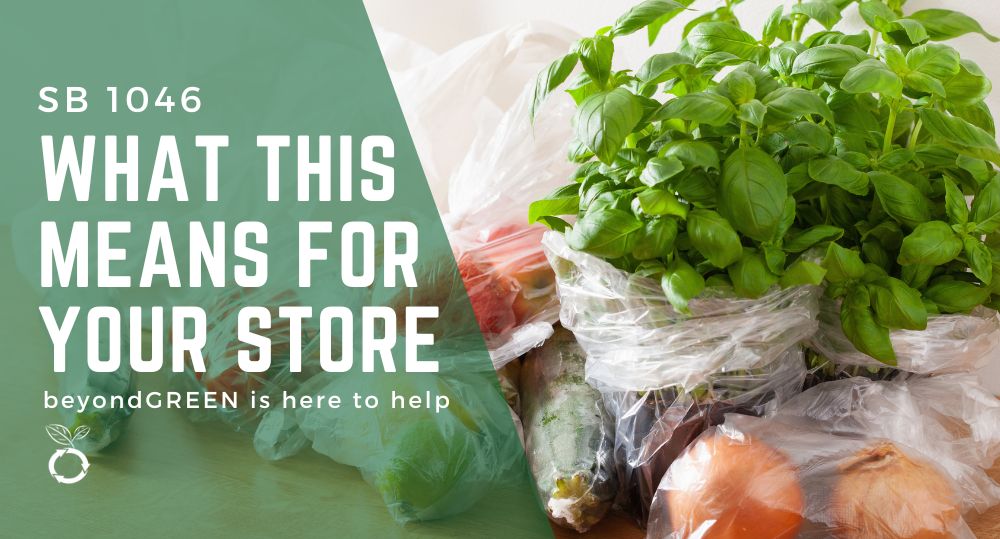 California has been passing bills for decades to move toward a more sustainable future and reduce the impact of plastic waste on our planet. You can see a detailed list of Federal and State regulations on plastic waste and compostable bags here.
The latest of these includes Senate Bill 1046. On September 30, 2022, California Governor Gavin Newsom signed a bill to ban plastic pre-checkout bags in grocery stores throughout California.
Senate Bill 1046
This bill, Senate Bill 1046, specifies that grocery stores and markets can only offer "pre-checkout bags" if they are made from recycled paper or compostable.
Pre-checkout bags would include plastic bags that are used by consumers prior to paying and leaving the store. This would include produce bags or plastic bags used for meat or other items that may leak and contaminate other items in your cart or basket.
As of January 1, 2025, stores are prohibited from offering any pre-checkout bag that is not either:
home compostable and meets the standards specified in Section 42357.5 or,

a recycled paper bag.
What Does This Mean for Stores?
If you currently manage a store that offers pre-checkout bags or single-use bags to consumers, you will need to find an alternative and ensure that it meets all the requirements specified by the new bill.
We suggest requesting the proper documentation from your suppliers and ensure that the bags you offer do meet these standards prior to 2025.
This requirement does not come into effect until January 1, 2025, so store owners have some time to find alternatives, but we suggest starting to look at your options as soon as possible. You will want some time to test out the supplier's quality, test the products in-store, and transition time to run through your current inventory of plastic bags that may not meet standards.
Manufacturers Offering Compostable Produce Bags
The California Grocers Association has lobbied to push this bill back to 2025, rather than its initial proposed enaction date of 2023, to allow stores time to adjust and with the impression that "only a small number of manufacturers currently exist in the marketplace that can provide these bags" ("08/19/2022 Senate Floor Analysis").
beyondGREEN is proud to be a part of the solution. We offer private-label manufacturing right here in California.
We are happy to work with our customers to find a solution that will keep their customers happy for years to come and meet these new required standards. We proudly offer wholesale pricing on our grocery bags and custom-branded compostable produce bags. Contact us today for a free quote and more information on our solutions.
Alternatives for Consumers
We anticipate that many consumers will feel the impact of this bill being put into place. If you want to help with the transition or find that your store is lacking sustainable options, you can purchase your own compostable bags to take with you to the store.
beyondGREEN offers compostable bag alternatives that you can purchase in bulk online. These plant-based bags are durable, leak-proof, and home compostable. Go the extra mile with your personal sustainability by investing in our home composter as well.
beyondGREEN Is Here for You
Whatever your need, beyondGREEN is here to help businesses and consumers alike move toward a more sustainable future. Shop our selection of home compostable products online at byndgrn.com, contact us for more information on our custom manufacturing, and get helpful tips on living a more sustainable life by following our blog.