How to Dispose of Cat Litter Without Plastic Bags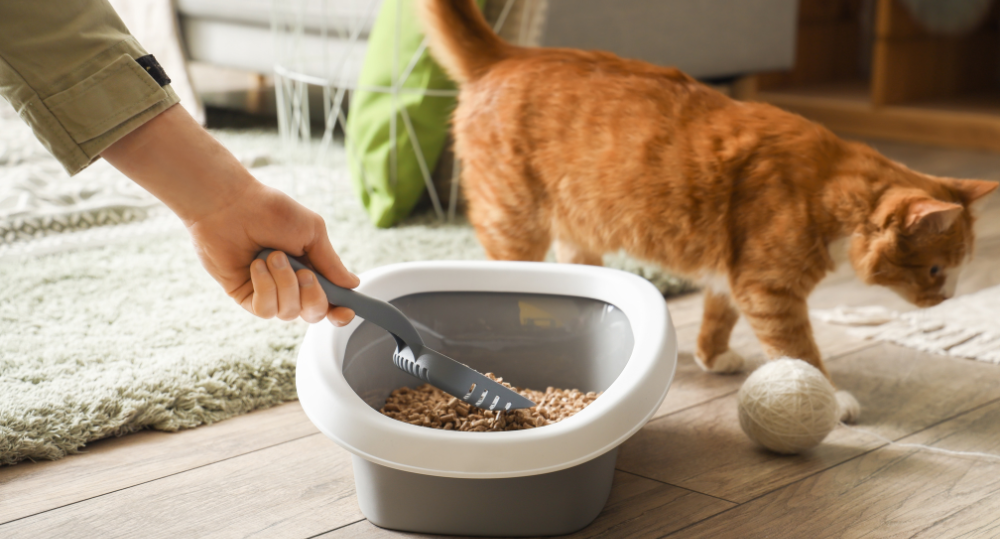 The Potential Dangers of Cat Litter On The Environment
According to the American Veterinary Medical Association, nearly 31.9 million households in the United States have at least one cat. Imagine the amount of cat litter that all of those households produce in a single year.
Where does all of that cat litter go? An overwhelming majority ends up in landfills. The issue with that is that most of that litter is in plastic bags that are not biodegradable and most of the cat litter in the bags is not biodegradable either. Most of that waste will remain in landfills for centuries to come.
What Is Cat Litter Made Of?
Some of the most common cat litters are clay or silica based.
Clay based cat litter is the most popular because of its affordability, but it is not biodegradable. Strip mining is used to obtain the clay used in the litter and renders the area mined useless for animals and plants.
Silica based cat litter is highly absorbent, but is made with sand, a non-renewable resource. The manufacturing process also requires a large consumption of energy. Silica cat litter is also non-biodegradable.
Are Cat Litter Bags Recyclable? 
Plastic cat litter bags are not biodegradable. Common brands such as Tidy Cat, Johnny Cat, and Fresh Step make cat litter bags of plastic. Some consumers may think that these are a good option because plastic is recycable. However, the litter in the bag is not recyclable even if the bags themselves are.
Thankfully there are some better options in recent years. One of those options is beyondGREEN's home compostable cat litter bags. These compostable bags are a better option for the environment. 
How to Dispose of Cat Litter Without Plastic Bags
So what is the best way to dispose of cat litter for the environment? We suggest composting it. There are a few things to keep in mind to do so safely. Here's our advice.
Tips to Properly Compost Cat Litter
Composting is the most eco-friendly way to get rid of cat litter, but you have to use a 100% natural plant-based cat litter made from grains, paper, or wood pellets. These materials are biodegradable and will allow you to compost the litter and cat waste together.  
Clay and silica cat litter can't be composted. 
Once you have selected the compostable cat litter that works best for you, following these simple steps will allow you successfully compost your cat litter at home:
Build or purchase a compost bin or select site for a compost pile.
If you purchase an all-electric composter, simply add your compostable cat little and compostable cat litter bags to your composter.
If you are using a compost pile, follow these steps:

Layer absorbent brown materials such as dry leaves, straw, or twigs with  the organic waste you wish to compost.
Add another layer of brown materials on the top of the pile.
Turn you compost pile every few days with a shovel or rake.
Be sure to keep the pile damp but not wet.
A properly taken care of, a compost pile will take from three to six months to fully decompose. Turning and watering your pile will help the process along.
When the compost is done it can be used in your flower beds and yard, but cat litter compost should not be used to fertilize edible plants.
Using Compostable Cat Litter Bags
Compostable bags such as beyondGREEN's cat litter bags will make the clean up a breeze and are very eco-friendly. The bags are manufactured right here in the United States entirely from plant-based biopolymers and without any chemicals and ink that is water-based.
The bags are unscented but have odor blocking properties to keep the stink in the bag. The bags can go right in the compost pile as microorganisms will eat away at the bag.