beyondGREEN Partners with Walmart to Manufacture Great Value Compostable Cutlery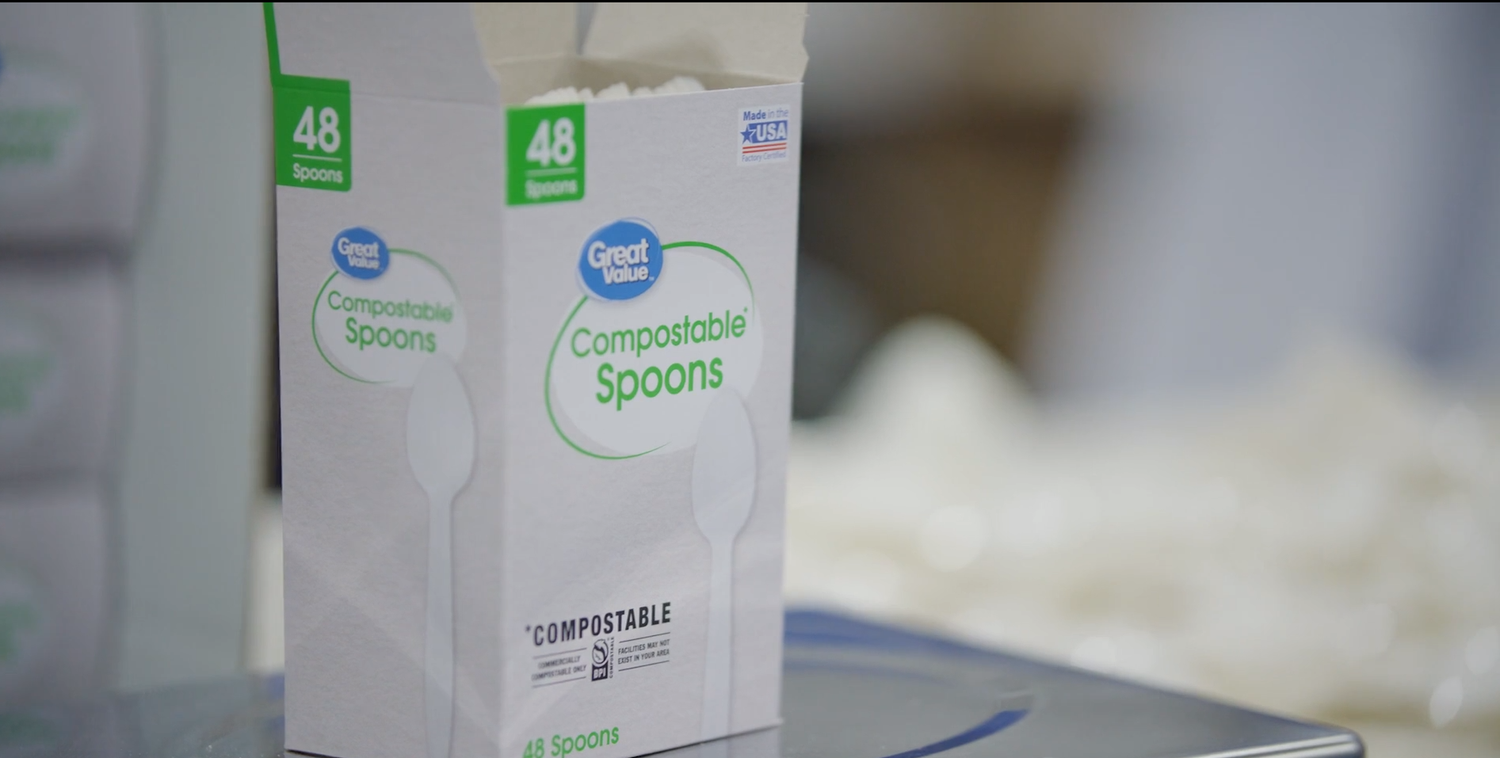 beyondGREEN recently partnered with Walmart to manufacture compostable cutlery under the Great Value private label brand name. We proudly celebrated this partnership with a ribbon cutting ceremony last week in San Antonio.
These products hit over 1,400 Walmart stores in mid-September and are available in 24- and 48-count packages.
Ribbon Cutting Event
Last week, beyondGREEN hosted a ribbon cutting event in San Antonio, Texas to celebrate this partnership with Walmart. Walmart US CEO, John Furner was in attendance along with a variety of San Antonio elected officials.
Great Value Compostable Cutlery
Great Value's new compostable cutlery is certified by BPI, a third-party certification company, and will break down in a commercial composting facility in just 26 weeks. 
Walmart is aware that many consumers have the perception that compostable items are more costly than their plastic counterparts and not as durable. To combat these perceptions, Walmart is offering these products at a low-price point and ensuring this cutlery is high-quality.
Great Value Compostable Cutlery is now available at Walmart's Every Day Low Prices. The 24-count packs will be available for just $1.48, our entry price point for cutlery, while the 48-count pack is available for only $2.96 making it the lowest-cost disposable cutlery in the store. 
This cutlery is made from plant based materials that are durable yet less likely to snap under pressure than plastic cutlery. 
Why Buy Compostable & Walmart's Mission
As a business, Walmart is on a mission to meet its customers demand for more sustainable products and create a more sustainable future. Walmart CEO, Doug McMillon, describes Walmart's job as "to design the path of least resistance as the one that's more sustainable and regenerative."
Walmart has set sustainability goals to work with suppliers to source more plant-based materials and reach 100% recyclable or compostable private-brand packaging by 2025. Jennifer R. Jackson, Walmart's SVP of merchandising, says, "It's all part of Walmart's goal of being a regenerative company and create less waste in manufacturing." 
This partnership supports Walmart's mission and sustainability goals while increasing US-based jobs.
The Journey to Get Here
beyondGREEN's partnership with Walmart began at Warlmart's 2022 Open Call event. This annual event provides US-owned small business owners with the opportunity to pitch their products to Walmart.
beyondGREEN attended the event planning to pitch compostable pet waste bags and grocery bags and the discussion quickly evolved into compostable cutlery and led to the partnership that is in place today.
To support this new partnership, beyondGREEN opened it's new San Antonio production facility in early-2023. This 91,000 square-foot facility currently employs over 70 people and is projected to top 100 new jobs by the end of 2026.
Where to Purchase
Great Value's compostable cutlery is now available in over 1,400 stores throughout the United States and can be ordered online at Walmart.com. Walmart plans to expand these products into more of it's stores throughout the coming months.