beyondGREEN Partners with Columbia Packing Group to bring to market Danimer Scientific's Nodax In Our Sustainable Plant-Based PHA Straws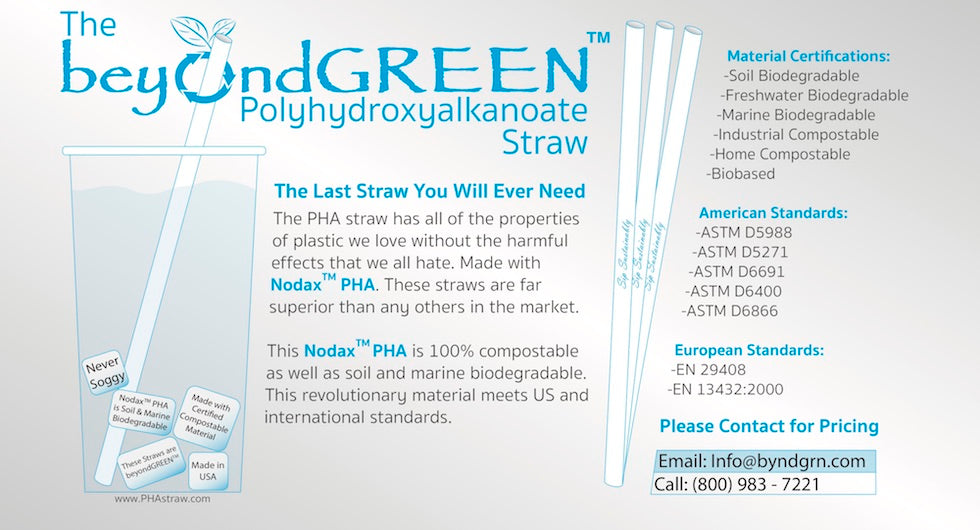 The Final Straw.
beyondGREEN was ecstatic to hear the news that Danimer Scientific received the Innovation Research Grant. We knew their patented sustainable Nodax™ material would be a perfect fit for the new product we are bringing to market in early June. At beyondGREEN, we have been very excited to see American consumers push for an alternative to harmful plastic straws. Only the paper & metal straws we saw replacing these harmful plastics did not seem to be a complete solution. Paper straws typically start unraveling or get too soggy before finishing your drink. Metal straws are cumbersome to clean, transport, and keep with you at all times. So, what was the answer to the problem conventional plastic straws posed?
Was it possible to create a straw made from a bioplastic that would completely break down in anaerobic and aerobic compostable environments while keeping the integrity and experience of the regular plastic straw? We set out to do just that. beyondGREEN is proud to introduce to you the final straw. Our PHA straws contain all the integrity and strength of conventional plastic straws without sticking around in our environment. They are the first of it's kind. A sustainable plant-based solution that will degrade and break down into nutrients for the earth in all compost settings. 
What is the difference between PHA and conventional plastic?
The difference between PHA and conventional plastics is simple, one hurts the environment, and the other does not. Danimer Scientific's Nodax™ (PHA) material will degrade when bacteria is present. (source). The bacteria present in soil, freshwater, marine environments, and both aerobic/anaerobic composting environments (whether home or industrial) are sufficient in breaking down our straws completely.
This is the replacement for harmful single-use plastic straws we have been looking for. Our PHA straws do not harm the environment, rather they provide the soil with nutrient rich vitamins and minerals when broken down, giving back to life itself, instead of polluting it. PHA is a true game changer for single-use items in the plastics industry. Never before has there existed a single-use straw with the strength of conventional plastics that biodegrades back into the Earth. Even if the straws are not disposed of correctly using the proper waste channels, they will decompose and return to the soil from which they came. A 100% Plant-Based alternative with the convenience and ease of regular plastic.
A product like that must be expensive, right?
Maybe the best and most special part of this sustainable plant-based straw to the consumer will be it's price point. At beyondGREEN our PHA straws will sell at only  around five cents per straw. Think of it as a small tip to Mother Earth every time you choose our sustainable solution over it's conventional plastic counterpart. We know once you give our straws a try, they will become a staple in your home and business experience. The world is looking for a solution to harmful single-use plastics. With Columbia Packing Group & Danimer Scientific's Nodax material. We aim to fix the original plastic straw, the paper straw, and the metal straws issues with one plant-based alternative you and your family can feel good about purchasing.